About Robert Damora
This website has been created by Robert Damora's family for the purpose of sharing his architectural photography with a wider audience. His 97 years have spanned the development and flowering of mid-century Modern Architecture, and he documented most of it on his 8 x 10 view camera.
Originally one-use contract work for magazines, including Look, Architectural Forum, Architectural Record, House & Garden, Life, Progressive Architecture, and many more, these photographs also developed the art of photography itself. Damora was instrumental in creating images of buildings with a richness, space and dynamism that had not been seen before, and influenced many. His work is in the permanent collection of the Museum of Modern Art, is the recipient of many awards, and has been honored by NEA and Guggenheim fellowships. In 1964, Walter Gropius, then the director of Harvard's School of Architecture and creator of the former Bauhaus in Germany wrote: "I consider him the best photographer of architecture in this country."
These images are representative of a large archive of work that includes buildings and projects by Marcel Breuer, Louis Kahn, Philip Johnson, John Johanson, Mies Van der Rohe, Eero Saarinen, Paul Rudolph, I. M. Pei, Paolo Soleri, engineer Paul Weidlinger, sculptor Carl Milles and many others. Prints, as limited edition folios, will shortly be available. To inquire, please write to us at
info@robertdamora.com.
From the Condé Nast website:
Robert Damora
(American; 1912-) is a remarkable architect and architectural photographer whose work and dedication has helped make public the Modernist movement in American architecture. As a 1953 graduate of Yale School of Architecture, Damora worked from the perspective of an architect and his photographs express "the full value of each subject-its function, strength, and intrinsic beauty." Since the 1930s Damora has captured the allure and energy of such structures as the Museum of Modern Art in New York City by Philip L. Goodwin and Edward Durrell Stone Architects and the Hancock Building in Boston by I.M. Pei and Partners, as well as residences like the Breuer House in Connecticut by Marcel Breuer Architect, the Gropius House in Massachusetts by Walter Gropius Architects and the Rockefeller Guest House in New York by Philip Johnson. His images translate three dimensions into two with a superior understanding of form, space, light, surface, color, texture and detail. In the 1950s Damora was also architect, director, and photographer for Seeds for Architecture, a research program for exploratory architecture sponsored by US Steel to promote concrete construction, and in the early 1960s developed "Better Houses at Lower Cost," a program aimed at reducing costs for commercial and residential construction using fewer parts, prefabricated components, and simpler assemblies. In 1960 he exhibited work in "Visionary Architecture" at the Museum of Modern Art and won House of the Year Award in 1962 for his Cape House project. He contributed numerous cover and editorial photographs to House & Garden (1938-1975).
From the catalogue of a retrospective exhibit at the Yale School of Architecture:
My activities in many facets of Modern architecture in America over the past seventy years convinced me that its principles and objectives unquestionably made it the first total democratic architecture in history. Architecture, long the prerogative of the power elite, finally recognized the needs of the general population.
Starting with the turbulent 1930s, there grew a new energy, a ferment of ideas coming from a new philosophy of architecture, new engineering, new materials, and a basic desire to lift the human spirit. Although little of this research and development could be built during the Depression and the war that followed, this theoretical reservoir inspired countless exploratory projects that created a new architecture for America.
When World War II was over, all the thinking and dreaming burst in a torrent of vital architectural production and construction typified by the subjects of this exhibition which celebrates the surge of diverse, fresh, useful, livable design that stemmed from the early 1930s and still continues as the architecture for everyone.
This, then, is Total Architecture to me: architecture that is human, that is useful, that goes beyond form alone to the beauty of spirit; architecture that encompasses all building types and people; and finally, architecture that has consumed more than seventy years of my life in total joy.
—by Robert Damora, with Sirkka Damora, 2003.
Ise Gropius relaxing on second floor terrace, Walter Gropius House, Lincoln, MA. Walter Gropius, Architect, 1938. Robert Damora, Photographer, 1948.
Knoll Associates showroom, Madison Avenue, New York, NY. Florence Knoll, Designer, 1951. Robert Damora, Photographer, 1951.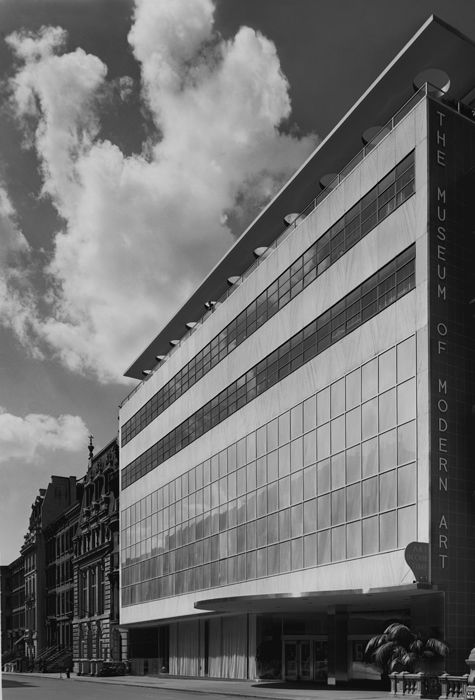 Museum of Modern Art, New York, NY. Philip L. Goodwin and Edward Durell Stone, Architects, 1939. Robert Damora, Photographer, 1939.
Hancock Building, Boston, MA. Henry Cobb of Pei Cobb Freed & Partners, Architects, 1976. Robert Damora, Photographer, 1977.
House made of seven repeated prefabricated post-tensioned concrete components, New Seabury, MA. Robert Damora, Architect, and Sepp Finkas, Engineer, 1962. Commissioned by 'Better Houses At Lower Cost' Program, Robert Damora FAIA, Program Designer/Director.
Robert Damora, Photographer, 1962
Architectural Record 'House of the Year,' May 1962
Award of Merit, AIA Homes for Better Living, 1962
1st Prize, Portland Cement Association Horizon Homes Competition, 1962
AIA Honor Award, 1965
Rockefeller Guest House, New York, NY. Philip Johnson with Landis Gores and Frederick C. Genz, Architects, 1950. Robert Damora, Photographer, 1950.
Rose Summer House, Lake Placid, NY. Robert Allen Jacobs, Architect, 1947. Robert Damora, Photographer, 1948.
General Motors Technical Center, Warren, MI. Eero Saarinen, Architect, 1956. Robert Damora, Photographer, 1956.
Architect Walter Gropius: visionary, leader, teacher 1883-1969. Robert Damora, Photographer, 1948.
Philip Johnson's First House
Robert Damora had the foresight to buy Philip Johnson's first house, and thereby live in modern architecture as well as photograph and design it. After 55 years out of the public eye and tended lovingly by the Damora family, it is now on the market: www.philipjohnsonsfirsthouse.com.
Designed at the close of WWII for Richard and Olga Booth, it nestles on the north side of a hill in Westchester, NY, embracing nature with a long stretch of floor-to-ceiling glass that commands vistas through mature deciduous woodland. The panorama includes a 36-acre nature preserve; the acreage closest to the property is protected by a covenant that prohibits development of any kind. On a winter night, one can become lost in the blaze of a fire in the expansive brick hearth and simultaneously watch the snowflakes drift through the trees. Damora built a studio nearby and turned the partial basement into a flexible living space with windows onto a sunken terrace, adding bathrooms, updating services and acquiring permits for future expansion.
The significance of the house is not just that it is Johnson's first built commission. It appears to be the first constructed commission by a direct disciple of the Bauhaus with American training, the first instance of European architectural concepts then being adopted and implemented by American architects. Johnson briefly joined the post-war enthusiasm for finding simple, elegant housing solutions for 'the common man' using new materials and technologies. The house employed concrete block with steel beams and columns— unconventional construction for a residence of that period—and featured plate glass, a flat roof, and a flowing, open plan promoting a modern way of life. Please see more at www.philipjohnsonsfirsthouse.com.
Philip Johnson's first house, for Richard Booth, Bedford, NY, 1946. Robert Damora, Photographer, 1976
Philip Johnson's first house, for Richard Booth, Bedford, NY, 1946. Robert Damora, Photographer, 1976
Interior, Robert Damora's studio, at Philip Johnson's first house. Robert Damora, Architect, 1965. Robert Damora, Photographer, 1976